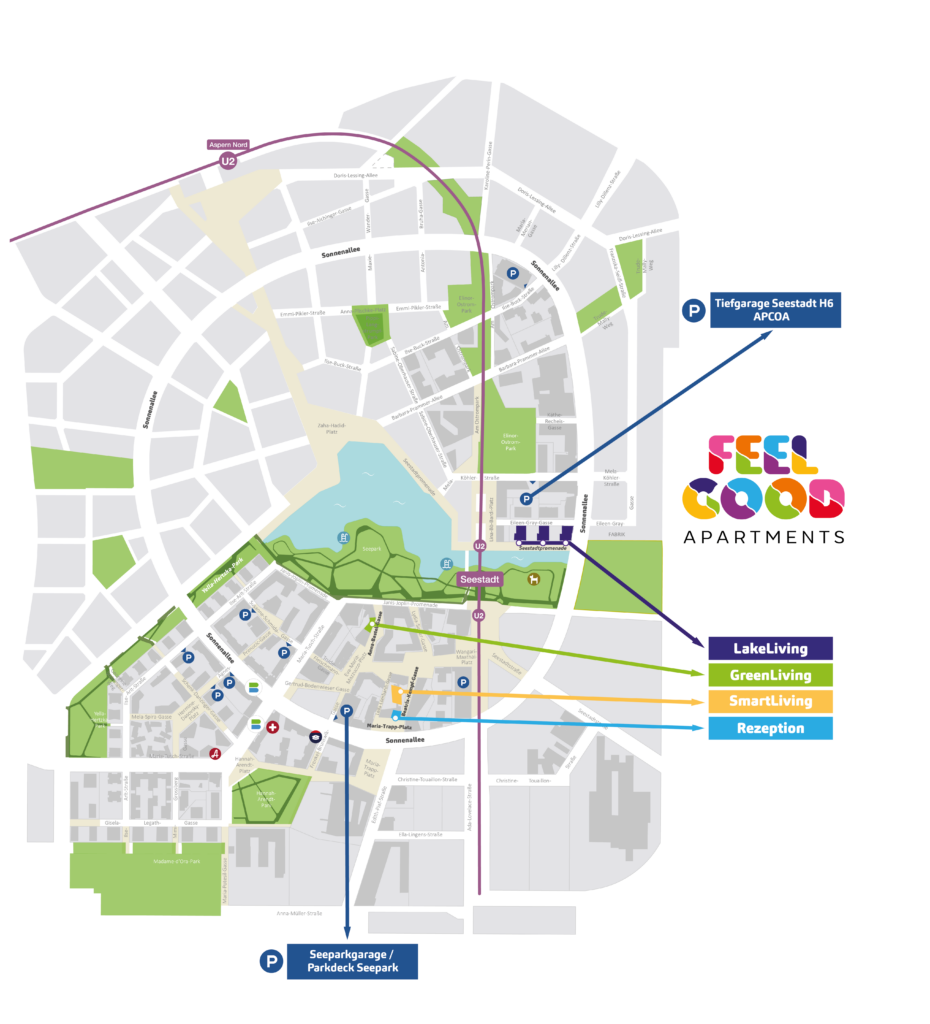 By car: 
The Seestadt is easy to reach by car. Most of the time you will take the exit Groß Enzersdorf/SMZ Ost/Stadlau of the freeway A23 to get to the Seestadt via the Erzherzog-Karl-Straße, Hausfeldstraße and Ostbahnbegleitstraße. We have summarized the addresses of our reception and locations for you, so that you can easily enter them into your navigation system.
FeelGood Service: We provide free parking for our guests.

By train:
By train, you will usually arrive at Vienna Central Station. From there you can take the S80 or regional trains to the station "Aspern Nord". From there it is only one underground stop to the Seestadt.
More information about the connections and the possibility to buy a ticket can be found on the website https://www.oebb.at/.

By plane :
Transfer by public transport:
The Seestadt can be reached quickly and inexpensively from Schwechat Airport by public transport. At https://www.viennaairport.com/passagiere/anreise-parken you will find an overview of the different options.
Transfer by cab:
The costs of the transfer from the airport are about € 50.00. We can order a cab for a specific time at the FeelGood price of € 45.00 (for up to 4 people; payable at the driver). In case you are interested, simply contact our reception team.
Underground Station Seestadt
U-Bahn Station Seestadt (Seestadt)
Coordinates: 48° 13′ 35″ N, 16° 30′ 30″ O
Please note that the underground U2 is closed for construction works from 01.07.2022 until 04.09.2022 between the stops Aspernstraße and Seestadt. To get to the FeelGood Apartments, simply take the rail replacement service.